About Kevin Eikenberry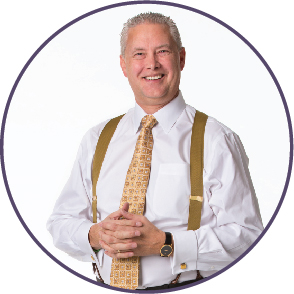 Kevin Eikenberry is a world renowned leadership expert, best-selling author, speaker, consultant, trainer, coach, leader and learner.
Kevin is the Chief Potential Officer of The Kevin Eikenberry Group, a leadership and learning consulting company that has been helping organizations, teams and individuals reach their potential since 1993. Kevin's specialties include leadership, teams and teamwork, organizational culture, facilitating change, organizational learning and more.
He has been named to many exclusive lists: In 2014 to Inc.com's Top 100 Leadership and Management Experts in the World and 100 Great Leadership Speakers for Your Next Conference, American Management Association's Leaders to Watch in 2015 and Top Sales World's 2015 Top Sales & Marketing Influencers, Best 50 Leadership Blog Sites from Ready to Manage in 2016, as well as the 20 Leadership Blogs You Should Be Reading from David Grossman in 2019.
He has worked with Fortune 500 companies, small firms, universities, government agencies, hospitals, and more. His client list includes the American Red Cross, A & W Canada, Chevron Phillips Chemical Company, John Deere, Purdue University, Sears Canada, Shell, Southwest Airlines, the U.S. Marine Corps, U.S. Mint, and Verizon.
He is the best-selling author of Remarkable Leadership: Unleashing Your Leadership Potential One Skill at a Time (Jossey-Bass Publishing 2007), a leadership primer designed to help you learn and master the 13 competencies of remarkable leaders; and Vantagepoints on Learning and Life (Dog Ear Publishing 2006), a collection of his email essays on learning from everyday experiences. His other books include #LeadershipTweet: 140 Bite Sized Ideas to Help You Become the Leader You Were Born to Be (Happy About, 2009), and the co-author of From Bud to Boss: Secrets to a Successful Transition to Remarkable Leadership (Jossey-Bass, 2011) and The Long-Distance Leader: Rules for Remarkable Remote Leadership.
Kevin also writes the email-based publication: Unleashing Your Remarkable Potential, a weekly publication read by more than 30,000 worldwide, to assist organizations and individuals in turning their potential into desired results. In addition, his Leadership and Learning Blog has been recognized on several occasions as one of the best leadership blogs in the world.
Kevin's writing has been published in newspapers, magazines, trade journals and websites from around the world. He is a frequent guest on WNIT's Business Outlook, and has been a guest on more than 100 radio shows.
Praise for Kevin Eikenberry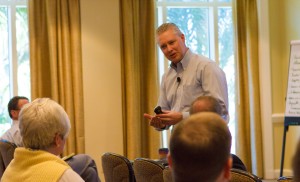 "The end result while working with Kevin Eikenberry was our vision, strategy and tactics for 2005. Kevin worked with our Communication Department for three days, assisting us in brainstorming activities and eventually capturing our final results. Along with the business aspect of the meeting, Kevin helped us grow closer as a team with numerous activities and break-out sessions.I was the primary contact with Kevin Eikenberry. I felt he went beyond the call of duty in his flexibility with us (we changed dates a few times), his work relationship (Kevin flew out to meet with us personally and we had numerous phone conversations) and his knowledge of our business.The return on investment is still occurring. Kevin has developed a business relationship with the head of our department. She is independently calling him for counsel. I feel confident that we will utilize his services again in the future.The key aspect to his success is his enthusiasm while teaching and also the knowledge that he strives to obtain about our business. Kevin did a lot of research and read information on our business, so that when he facilitated he had an understanding of what we were trying to achieve and the best way to do that."

– T. Steinberg, Communications Specialist, Chevron

"Thank you to Kevin for the best four days of instruction that I have ever been involved in."
– C . Corley
"The best class I've been to in my life. Learned a lot and achieved my personal goals!"
– D . Price
"As a former corporate weenie, I've been through at least a zillion of these types of events, but Kevin's presentation was one of the very best I've ever participated in! Learned a lot, had fun and enjoyed working with the other participants. It does not get much better than that!"
– J . Murray
"I have worked with Kevin Eikenberry both as a co-worker and as a consultant. His ability to motivate and lead is truly unique. He has the ability to increase an individual's self-awareness and self-confidence simultaneously. These traits make the training "bottom-line" increase no matter what the topic."
– W. Casper, Director, HR Citigroup
"Kevin is, by far, the most engaging moderator and speaker I have ever seen! He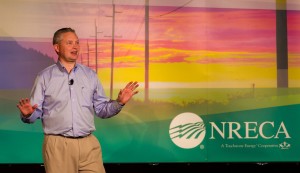 captivated our audience and sustained their involvement from beginning to end. I have received numerous comments from the participants expressing their satisfaction and delight after hearing Kevin's message on change and leadership.
Kevin's authenticity, transparency, and genuine care for people sets the stage for a very safe and comfortable environment allowing participants to share ideas freely. He was the highlight of our entire conference! I'm looking forward to bringing Kevin into our company for regular speaking engagements and workshops. Kevin is a 'world-class' speaker and trainer. . . He delivered beyond expectations! I will always look to Kevin Eikenberry first to deliver required content and ensure success of any large change initiative."
– K. Sautter, Director of Consumer Affairs, ConAgra Foods
"Loved the participatory workbook – staved off distractions or kept me engaged and writing notes; content I will keep at the office to refer back often. Kevin was superb at addressing questions (many from left field!) and applying his answers to the session content by putting them back into context of our goals (why we are here!) Awesome."
– Schlaine Grass, Embanet Compass Knowledge Group
"I was pleasantly surprised by the overall course. The content was very relevant to me as a new supervisor and extremely helpful.  Kevin [Eikenberry] made me think and he provided plenty of scenarios and examples that helped me understand the concepts, and will help me to apply them."
– C. Caroon, DENTSPLY Tulsa Dental Specialties
Check out Kevin in action here: